We all want the perfect photo when we are visiting a tourist spot. Who does not? After weeks of painstaking planning and probably months of waiting, we finally get to the dream place to escape our hectic urban life.
Leave no regrets, it is only fair for us to take photos of the landmark as best as we could so that we could always look back at the photos that have encapsulated the memory we had at the moment.
Lucky for you, FeedMe Malaysia is here to give you 10 incredible tricks when taking photos in touristy spots. So read on to find out how you can up your Insta-game to impress your friends and capture the moment in perfection:
1. Remove crowd in the background with a few clicks on Photoshop
There are plenty of YouTube tutorials on this but in order to pull out this trick, you must first be conscious of how you shoot the photos.
You will need a tripod for this to work and make sure the camera is completely still within the consecutive shots.
First, start by taking a photo of yourself with the landmark in the background, which in most cases is swamped by hundreds of tourists behind you.
Once you are done, take 8-15 photos of the same shot without moving the tripod or changing the camera angle. Allow 5-10 seconds interval between each shot and your perfect photo will emerge after being processed on Photoshop.
Follow the tutorial above and Photoshop will produce a photo of you, say in Louvre Museum, without a single person behind you. This tricks will surely get your friends asking you on how you get that perfect shot.
2. More Cool Shots with a Tripod!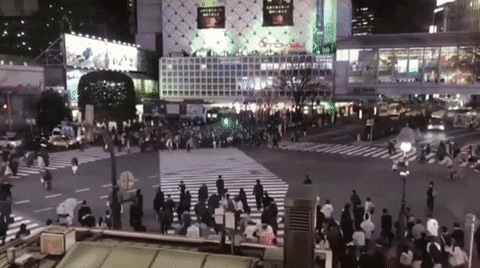 Tripod can be extremely handy when it comes to taking photos out of the ordinary.
In busy streets, such as Tokyo's Shibuya Crossing, a tripod can make impeccable timelapse videos; in picturesque nature, you can make a looping gif of a waterfall.
And if you are travelling alone, a tripod can take a portrait shot of you without relying on the kindness of strangers.
3. Think 4×5 ratio whenever you shoot
Instagram photos look best when they are squarish. They take up more screen space rather than the generic 16:9 landscape shot.
Therefore, be sure to put up grid lines on your camera and angle yourself fittingly within the frame.
5. Shoot in 120fps for buttery smooth slow-mo
Travel videos are getting more and more common these days, even among people who are not in the multimedia field thanks to mobile apps that can trim out a video in a few clicks.
One of the fancier shots you can incorporate in your travel videos is definitely slow-motion shot because it is subject-focus and its speed can be edited accordingly to the soundtrack and effects.
Shooting at 120 frames per second gives you more creative freedom when editing and it makes motions like hair flipping or blowing a dandelion much more appealing to the eyes.
6. Play around with slow shutters to get beautiful city shots
Again, with a tripod, long exposure shot creates breathtaking Tron-like photos where moving lights let out a long trail in a city's night shot.
Just lower down your camera's shutter speed and you will see this effect comes to life. It is as simple as that.
7. Talk to the locals
How many times have we ever come back from a trip knowing the place but not the people?
Talking to the locals will greatly improve your travel experience. Besides, they are the best people to give you travel tips, such as where to get the best shot of the landmark.
If you are in Japan, go talk to a geisha lady and they would be more than happy to take a picture with you; if you are in Bhutan, talk to the farmers and they just might even lend you their hat for a photo.
8. Download photo editing apps ahead of time on your smartphone
Travelling means you are likely to experience a shortage of data. That is why by downloading photo and video editing apps ahead of time will reduce your frustration when you need a quick fix before posting on your social media.
If you are feeling adventurous, you can even download apps such as Hyerlapse or Street View to take timelapses and 360-degree photos.
9. Look up photos of the location on Instagram before your visit
This method will help you to get an idea of what the landmark is like before visiting. You can find photo inspiration there, shots you wish to replicate or to avoid.
Instead of relying on photos from Google that are mostly shot by professionals, Instagram is a much better place to find more down-to-earth and authentic photos.
10. Tell a story through your photographs
Do not use a caption generator to post along with your travel photos. Decide on a theme before your visit and try your best to take pictures according to the mood of the theme.
You will be amazed by how your pictures start to speak out and tell a story rather than just a touristy photo album.
Now that you have known some travel photo tricks, it is time to look into a camera that can take on the job and produce state-of-the-art quality photos.
FUJIFILM recently launched X-T30 to replace its predecessor X-T20. The lightweight and stylish mirrorless camera is only 383g, making travel with a camera burdenless.
FUJIFILM is known for its outstanding image quality, proprietary colour reproduction technology and intuitive dial-based handling, the X-T30 continues to retain the brand's strength.
It now comes with an enhanced autofocus capability, able to lock on a moving person in a split of a second with face/eye detection under the new Face Select function. It has amped up 91 Hybrid AF points in the X-T20 to 425 phase detection AF points in the X-T30.
The 26.1-megapixel camera can shoot 4K video − in full frame (meaning there is no crop unlike other cameras in this range)− and full HD in 120 frames per second.
Its LCD monitor offers an improved touchscreen that complements the Focus Lever to achieve faster and more intuitive camera operation. The screen is also tiltable up to 90-degree upwards.
The X-T30 is available in the popular black, premium silver and a new colour, charcoal silver. The market has always dubbed FUJIFILM as the best looking camera thanks to its design that simulates late analogue cameras.
Its incredible colour production also makes it stands out among other brands, making it easier for you to take a photo that needs little to no colour editing.
This camera appeals to a broader range of users from professional photographers to first-time beginners, by being always able to deliver premium quality pictures with ease, regardless of experience.
You can check out FUJIFILM X-T30 on their website here.
They are also currently running a contest with prizes over SG$ 1,400. You can take part in it here.