After fireman Muhammad Adib Mohd Kassim passed away at 9.41pm last night, police have reclassified the case as murder from the initial attempted murder, Harian Metro reported.
Selangor deputy police chief Deputy Comm Datuk Ab Rashid Ab Wahab made the announcement yesterday and the case would be investigated under Section 302 of the Penal Code for murder instead of the prior Section 307 of the Penal Code for attempted murder.
According to The Star, the Save Seafield Mariamman Temple Task Force's committee chairman S. Ramaji urged the authorities to punish those responsible for Adib's death.
"We urge the authorities to conduct thorough investigations and bring those responsible to book.
"The authorities must not only go after the perpetrators but also the people who were behind the perpetrators," said Ramaji.
Malaysiakini reported Ramaji as saying that the 24-year-old fireman's death has made it more difficult to retain the temple land at USJ25.
"Violence is not and will never be a solution to any problem. And those who indulge in it for whatever reason have to be investigated and punished accordingly," he added.
This morning (Dec 18), Prime Minister Tun Dr Mahathir Mohamad and his wife, Tun Dr Siti Hasmah Mohd Ali, were present at the Subang airport to pay their last respect to Adib who was severely assaulted when carrying out his duty at the temple on Nov 26.
Bernama posted photos and a video of the sent-off where Adib's body would be flown to SK Tebengau, Kuala Kedah in Kedah for a ceremony before his burial. About 100 firemen were also present to pay final respects to their colleague.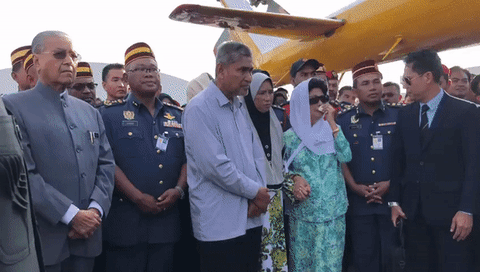 Both Dr Mahathir and Dr Siti Hasmah donned on a pair of sunglasses and appeared solemn in front of a helicopter where it was used to send Adib off. Accompanying Adib was his parents and fiancée, the helicopter took off at about 8am today.
When arriving at SK Tebengau at 10.29am, Malaysiakini reported almost a thousand residents and firemen were there to receive Adib.
Adib's casket was draped with a Malaysia flag and the crowd was there to pray and honour Adib.
The late fireman is expected to be buried after Zohor prayers at the Masjid As-Saadah Muslim Cemetery, about 500-metre away from his home.
Secretary-general of Housing and Local Government Ministry Mohammad Mentek, Fire and Rescue Department director-general Mohammad Hamdan Wahid and chairman of the state Health, Rural Development, Religion and Government-Linked Companies Ismail Salleh were also there amongst the crowd.