While Apple's recent iPhone Xr, Xs and Xs Max receive a huge criticism about its "innovation" and battery charging problems, current iPhone users, however, are met with a pleasant surprise with a new software update to iOS12.
If you have yet to update, you must; and if don't know what's new to this updated operating system, we have gathered the 11 coolest features here:
1. You can finally use WAZE on your car dashboard screen
If your car does have a screen, we are here to tell you that once your iPhone is updated to iOS12, you are no longer stuck with Apple Maps for your navigation system.
Waze and Google Maps are the two new global positioning system (GPS) options to your dashboard screen. All you have to do is to make sure you connect your phone to your car with an authorized lightning cable to ensure CarPlay would work.
2. New Measure app using AR tech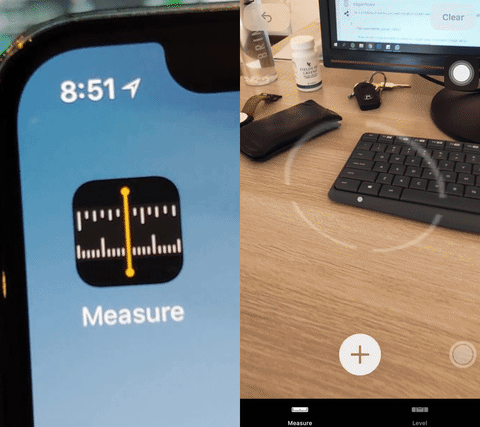 Introducing the most practical use of the augmented reality. Apple's new stock app, Measure, allows users to measure visually anything with the camera. All you have to do is just draw straight lines to measure objects and surfaces both vertically and horizontally using your iPhone camera, it will show the length of the lines in units of your preference.
3. View your device usage report
Have you ever wondered how much time you spent on your beloved iPhone? iOS12 now tracks your time spent on your device and its weekly report is quite in-depth.
It shows how much time you use on each app throughout a week or day, the data can also be broken down into categories and days.
Best of all, you can even set a time limit on each app. For the adults, it can serve as a reminder for us to live our lives beyond the compound of the screen; as for the kids, parents can prevent phone addiction on them. Setting a hard limit on gaming and Instagram is probably a good place to start. Don't you worry, you need a different passcode to enable more Screen Time.
You can manage Screen Time and view the reports in the Settings.
4. New Animojis and create one of your own
Say hello to koala, tiger, ghost and T. Rex Animojis on iPhone X or newer. Or most importantly, say hello to you! You can now create your own avatar with customizable skin tone, face feature, hair and accessory. You can create as many alter egos as you want to use in Messages and FaceTime. Apple calls this new feature Memoji.
5. New notification system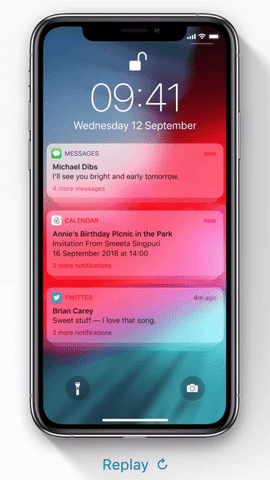 Now, your notifications of the same app would compile into one. A light tab would expend them. You can manage all of them even though the lock screen, all you have to do is pull the notification to the left and tap on Manage.
6. More customizable "Do Not Disturb" feature
Don't you hate it when notifications keep popping out when you're using the GPS, watching a video or playing a game? You can use the "Do Not Disturb" to block them as the feature now allows you to set a timer or even schedule it.
Go to "Do Not Disturb" in Settings and you will be amazed at how much this feature can improve your life. Imagine you won't receive work notification after work hour except those coming from your loved ones…