It was the Festival of Water, Songkran, last weekend. Locals and tourists alike hit the streets in Thailand to splash water on themselves as well as others as it is believed the act would cleanse the bad things away.
Among them, one famous artiste joined the celebration with a water gun in her hand. Hwang So-hee, or more famously known as DJ Soda, wore an orange-and-white strip dress and had a blast on the street.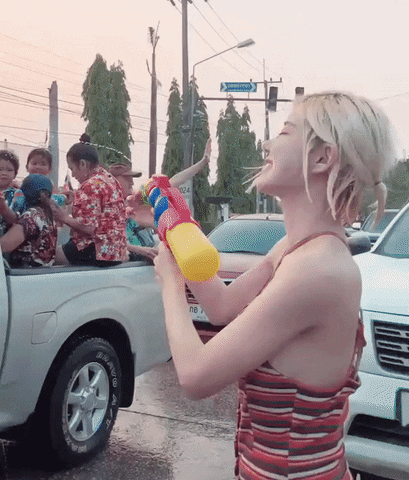 Posting videos on Facebook and Instagram, DJ Soda appeared all smiley as she skipped her way down the street, enjoying the cool water thrown at her. A few locals approached her to put on Din Sor Pong, a traditional white powder believed to be able to ward off bad luck and is a sign of protection.
Being the prime target, DJ Soda was completely drenched after passersby in pickup trucks splashed bucketloads of water onto her, causing her dress to slip downwards. Viral Cham wrote that her dress slipped 70% and almost flashing her chest.
https://www.instagram.com/p/BwPNDEdFSUk/
She was also seen squatting beside children, as if to take some rest, and taking a bite of skewered meat and watermelon.
It was not the first time DJ Soda celebrated Thailand's New Year in person there as in 2018, she did the same and performed later that night. This year, she spun some tracks in rave concert Wipeout 2019 along with a stellar lineup, such as DJ Suara, Queen Nara and MC Cullen.
https://www.instagram.com/p/BwPfhzhlTEp/
The video DJ Soda posted on Facebook 16 hours ago was reshared over 55,000 times at the time of writing. Many netizens poured their love on DJ Soda, welcoming the Korean artiste to Thailand.
Some, however, criticized DJ Soda for dressing inappropriately and stressed that she was ruining the tradition.
"How much do you know this tradition? Have you ever been responsible for Thai society? Dress like this, it makes the Thai society deteriorate further. I hope that the next year you will not dress like this again. It's nasty," one of the top comments wrote.
"This is why I never ever have thought of joining Songkran festival these days. Because most tourists visiting here including some local people don't have any respect in this beautiful culture by dressing up like (vulgar). Disappointed," an irate Facebook user said.
"I'm concerned about your dress. Please save yourself, some of Thai people are not respect(ful) people (that) much," another male netizen said.
China Press also reported the incident but it seemed to be a satirical piece. It warned that uploading "adult videos" taken in Songkran festival is a convictable offence.
Thai government previously cautioned the public to not upload nip slips or other alike videos, else offenders could face up to 5 years imprisonment and a fine of 100,000 baht (about RM12,000).
The Chinese daily even censored the photos in the article even though it was perfectly SFW (safe for work).
You may watch more videos of DJ Soda enjoying herself in Songran Festival on the next page.