Four bikes, seven men, two with parangs, came charging into a man's house yesterday (Feb 21). Fortunately, the man was quick with his reaction and managed to close the door seconds before getting assaulted.
According to The Star, the incident happened in Serdang in the evening of Thursday. Three separate security cameras were able to capture the 27-second attempt robbery.
Based on the videos, the victim was seen getting out of his vehicle after parking it at the porch at 4.28pm. The seven robbers charged into the compound and two men armed with parang alighted their bikes and ran towards the victim.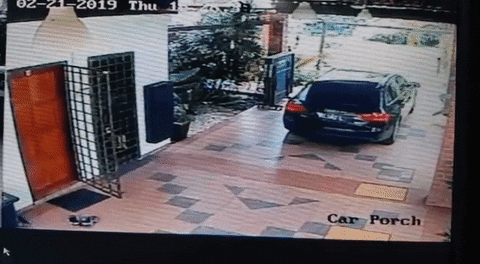 The victim in a blue shirt dashed into the house, pulling the gate behind him before slamming the wooden door. The quick-thinking move caused the robbers to take an extra step to open the gate before being able to muscle through the wooden door. It gave the victim and his family ample time to lock the wooden door and kept them safe.
The whole commotion was under 30 second. After realizing they could not power through the door, the robbers slashed the victim's car tyre and fled.
In a statement, Serdang OCPD Asst Comm Ismadi Borhan said the incident happened when the victim wanted to head out the house.
"On Feb 21 around 5.41pm, the complainant wanted to go out from the house when around four motorcycles ridden by seven men rushed into his compound,"
"Two of the suspects ran towards the complainant armed with machetes.
"The complainant ran back inside and locked his door while the two suspects tried breaking in.
"They then broke a window and stabbed the tyre of complainant's car before escaping."
Ismadi added that the victim suffered no injuries. The case is investigated under Section 393 of the Penal Code in relation to attempt to commit robbery, Sinar Harian reported. If convicted, offenders could face up to seven years of imprisonment and a fine.
Guys please stay safe my dad almost kene samun masa nak keluar rumah nasib baik sempat masuk dalam and ktrong tahan pintu.

— Hazran Adli (@aranomilano) February 21, 2019
The videos were viewed over 2 million times on Facebook and shared over 25,000 times. On Twitter, a user believed to be the son of the victim tweeted about the incident and the thread was retweeted over 10,000 times.
You can watch the full videos on the next page.